Our doors & partitions are extremely versatile and can change the full look of your room creating an ultra-modern finish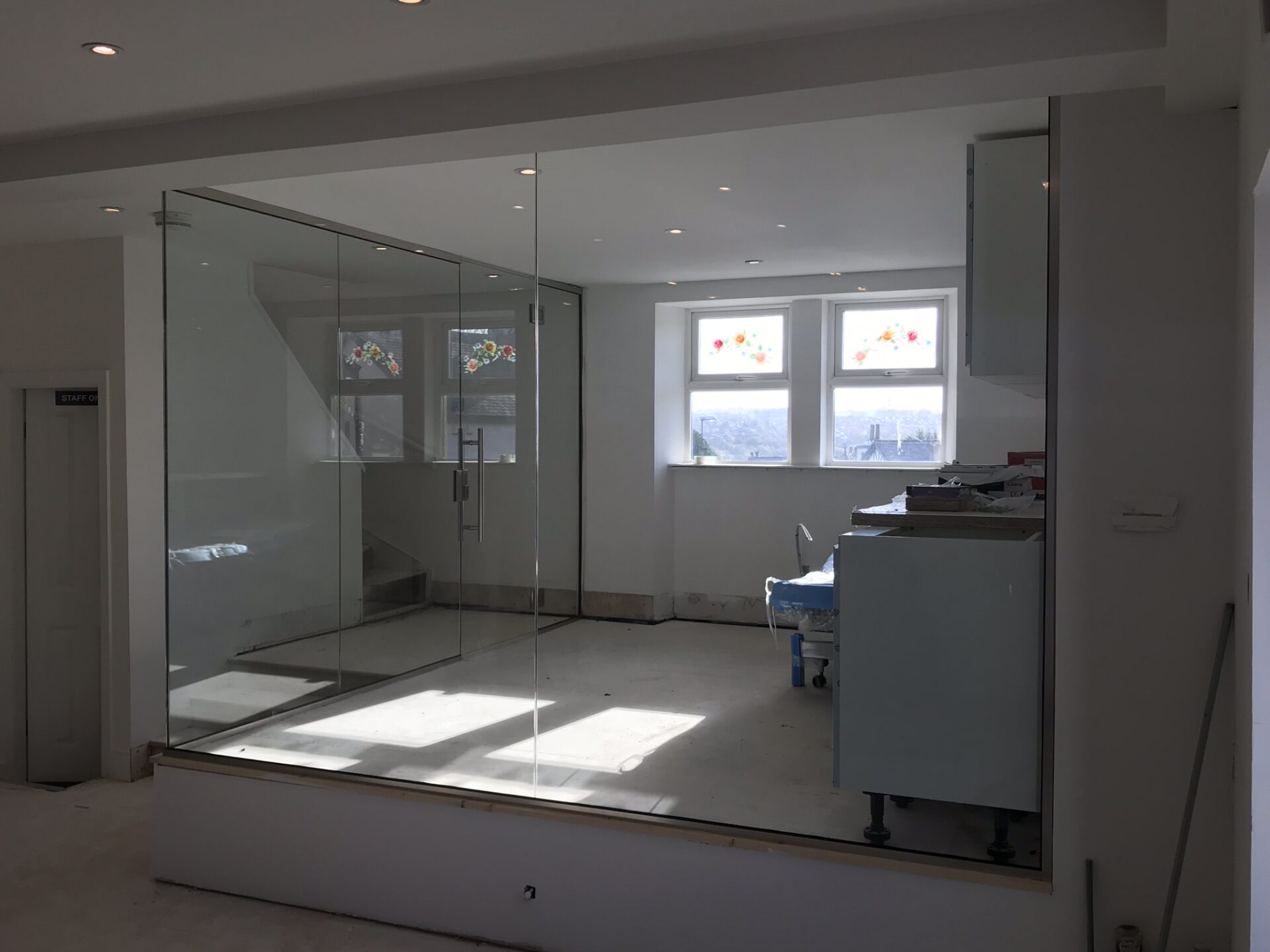 Replacing a conventional door with a glass door in your home or work place can really open up the light within your space.
We offer:
Wall hinged doors
Sliding doors
Patch fitted hydraulic hinges
Locking handles
A range of colours and finishes to the hardware
Safety toughened glass.
Take advantage of our fully bespoke template and fitting service making the process hassle free. Get in touch with us today to discuss your options.
If you wish to install the doors yourself, simply send us a photo of your opening along with the sizes and we will do the rest. We will send you all of your fitting options and along with a quote. We will take care of the deductions and tolerances. We can talk you through the process of installing the door to make things as simple as possible for you.
A vital component in most modern buildings these days, single glazed partitions are becoming a big hit, and its easy to see why! With a smooth and seamless aesthetic and a sure-fire way of enhancing the natural lighting in your building, this kind of wall is here to stay in modern design.
Here at A Touch of Glass, we provide the very best single glazed partitions on the market, giving you a high quality option to choose from if your interior needs a glass solution that will not only revitalise its look, but keep it strong and lasting for many years to come.
Create your ideal aesthetic
One of the main reasons why single glazed partitions have proven to be such a hit with customers is their "barely there" look, providing indoor spaces with a fluid transition between rooms. More and more facilities are opting for glass as a way of making their environment appear more open and collaborative. This is why these partitions are often seen in educational facilities and office spaces of the modern day, promoting an "anyone's welcome" approach.
A glass partition such as this is also a great way of promoting natural light in your space, keeping things bright and vibrant and reviving a space that was perhaps bland and worn out.
A durable material
As with each of our single glazed partitions, we ensure each are tested rigorously to make sure that they are safe for installation. We use the toughest glass around, that performs highly in its acoustic rating. Up to 44db is kept within the walls of your room, allowing meetings to maintain the level of privacy they deserve.